Lisbon in three days — 15 places to visit.
by Raquel Morgado, Marketing & Communication | March 17, 2021 | Startup | Travel | Lisboa |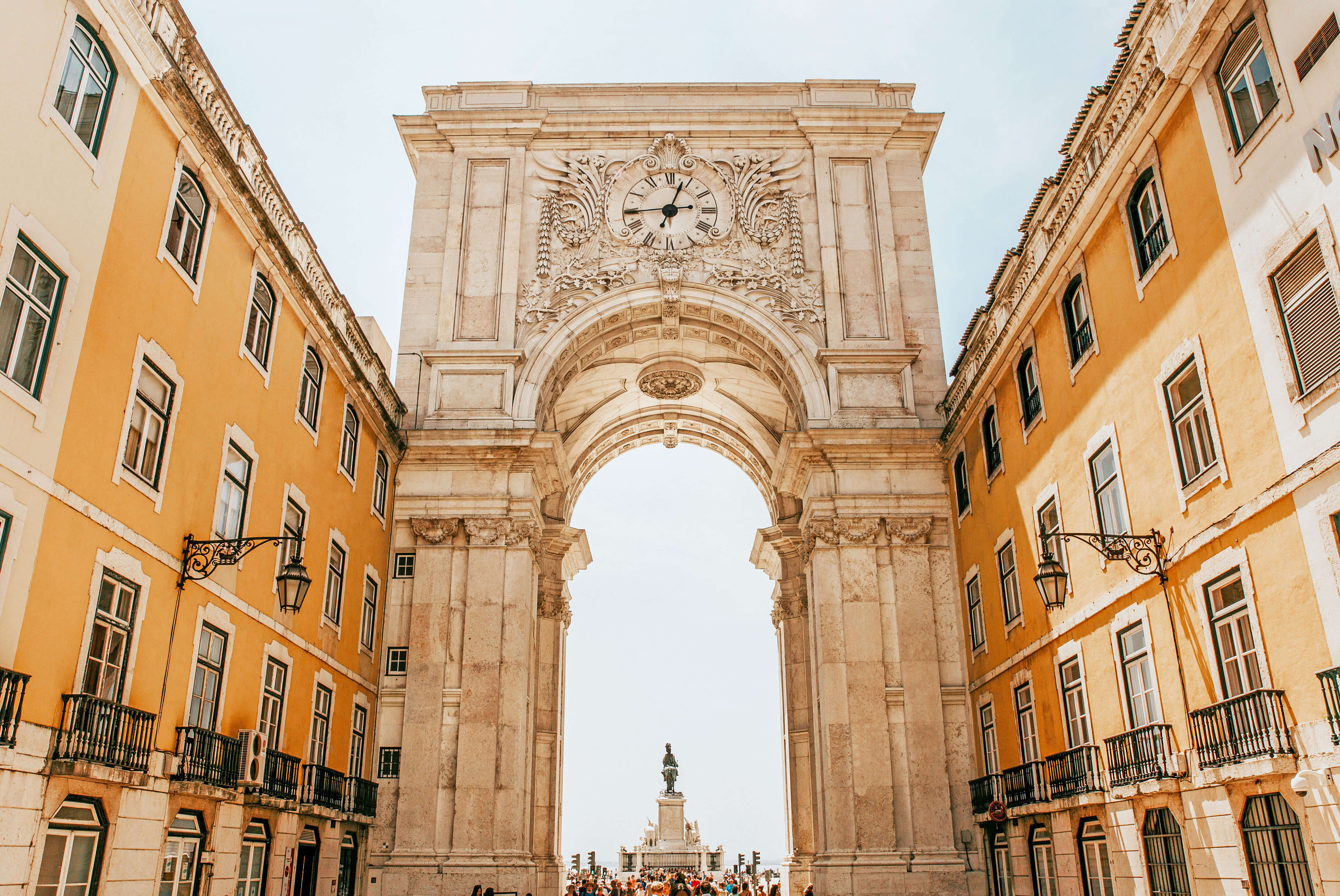 Photo by Vítor Pinto on Unsplash
The Portuguese capital is known by many as the "City of the 7 Hills". Located in Portugal's center, it is one of the most popular destinations for tourists when visiting the country.
Lisbon is a city of tradition, culture, and a captivating atmosphere. From the historical heritage to the terraces with breathtaking views over the Tagus River, the Portuguese capital promises to make everyone who visits it passionate about the city and Portuguese culture.
We have prepared for you a list of 15 places to visit in three days, but we know that time flies, and you want to enjoy your trip from beginning to end, and that is where we help you. LUGGit is available in Lisbon to take care of your luggage, collect and deliver it wherever and whenever you want.
Remember: before planning your travels, consult the information and security measures related to COVID-19 implemented at the destination.
1. Torre de Belém
Located in Belém, it is considered a National Monument and World Heritage by UNESCO. Built in the 16th century, on the north bank of the Tagus River, it functioned as a fortress in those times. Currently, it is possible to visit the interior of the emblematic Torre de Belém and live a truly historical experience.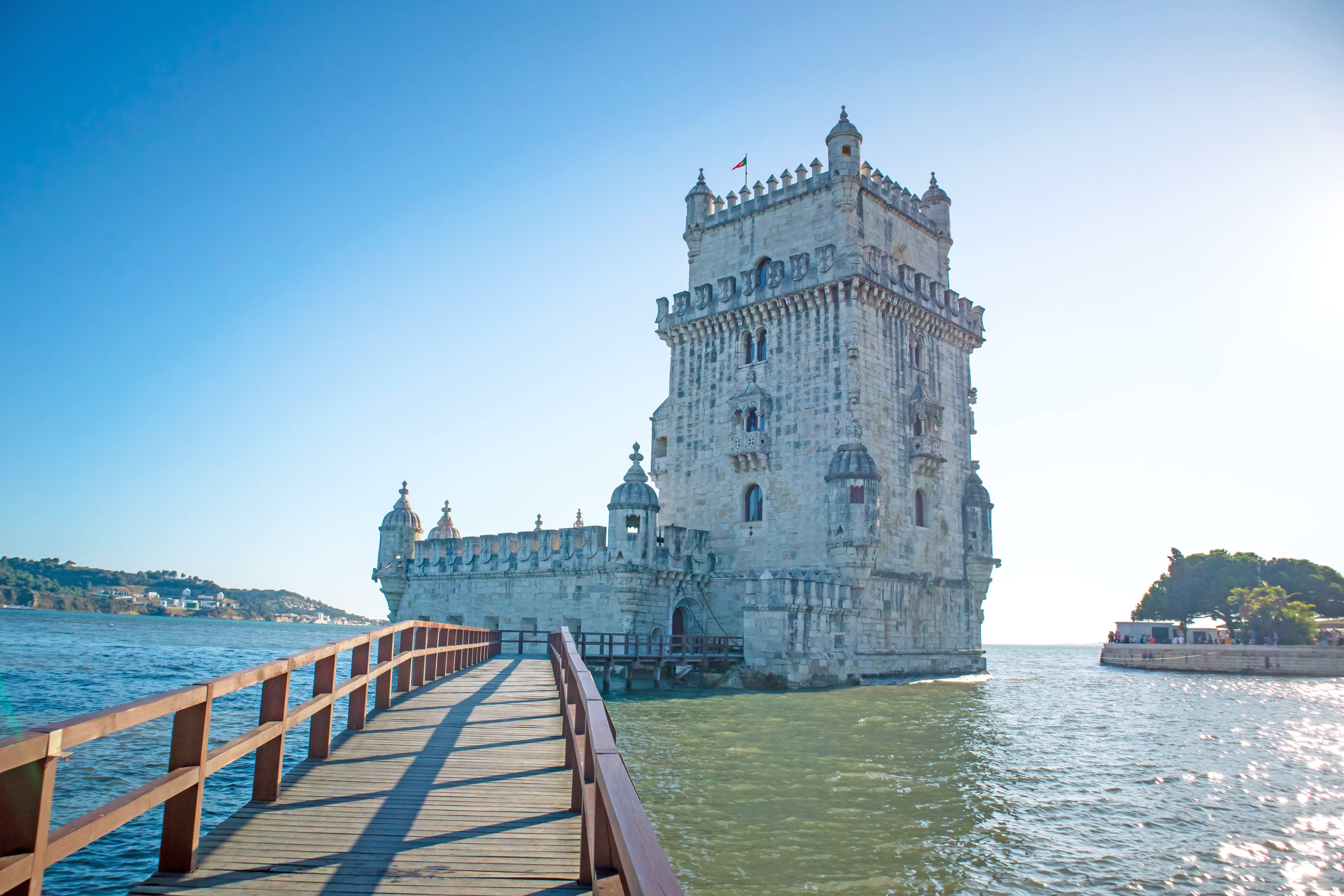 Photo by Marin Barisic on Unsplash
2. Elevador de Santa Justa
Located in downtown Lisbon, opened in 1902 and, at 45 meters in height, this elevator presents us with one of the best views over the downtown. To travel, it is necessary to purchase a ticket; however, the, 24-hour metro ticket, widespread for tourists, already includes the elevator ride and can be purchased at any metro station.
3. Parque das Nações
A mandatory stop for everyone passing through Lisbon, Parque das Nações is surrounded by several city points of interest. We can visit the Lisbon Oceanarium, observe the Vasco da Gama Tower, the highest building in Portugal, and finally take the opportunity to go on a pleasant cable car trip with a divine view of the Tagus River.
4. Bairro Alto
One of the oldest neighborhoods in the city, it is characterized by its narrow streets and old houses and is also known for its nightlife—one of the best places in Lisbon to socialize and make new friends.
5. Museu Calouste Gulbenkian
For fans of art and culture, this museum is one place not to be missed in Lisbon. It is possible to admire more than a thousand pieces of modern and ancient art. The museum is open from 10 a.m. to 6 p.m., and it is possible to buy tickets through the museum's website.
6. Miradouros
Lisbon is famous for being one of the European cities with the most viewpoints around the city, and there are so many that it is impossible to say which ones are the best. However, the best known are the Miradouro do Castelo de São Jorge, the Miradouro de Santa Luzia, and the Miradouro de Santa Catarina, which is a good place to relax at the end of the day watching the sunset while drinking an "imperial" (characteristic name given to beer in the Lisbon area).
7. LX Factory
Located in Alcântara, at LX Factory there is a real industrial environment immersed in a well of creativity. One of Lisbon's coolest areas, it is a place where you can find several shops, bars to relax, and delicious restaurants. It is also an essential stop for all of those looking for "instagrammable" places for their photos.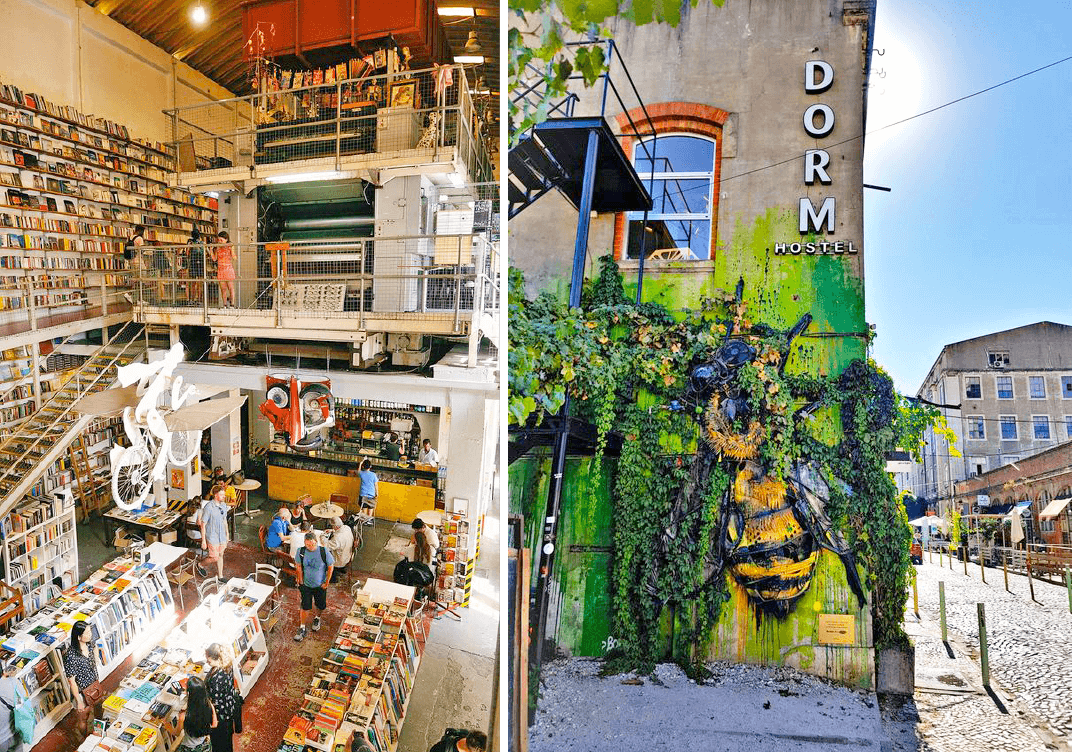 Photos by Gail at Large (left) and Inese Jhunevica on Pinterest (right)
8. Mercado de Santa Clara
Opened in 1877, this market, now dedicated mainly to the city's creative activities, is known for the famous Feira da Ladra, the oldest fair in Lisbon, which happens around it in Campo de Santa Clara. This fair takes place on Tuesdays and Saturdays from 8 a.m. to 5 p.m. and is a mandatory stop for the lovers of "vintage."
9. Alfama
If we had to choose a neighborhood to represent Lisbon and Portuguese culture, it would be Alfama. One of the most emblematic neighborhoods in the city, full of color and meaning, where you can hear Fado (traditional Portuguese music) through all the streets you pass.
In Alfama you can visit the Miradouro de Santo Estevão and one of the best Fado houses in Lisbon, "Clube de Fado".
10. Parque Eduardo VII
Located at the top of Praça do Marquês de Pombal, Parque Eduardo VII is one of the most popular and busy city gardens. There are spaces for picnics, green areas to relax and read a book, and the famous Estufa Fria.
11. Praça do Comércio
Known as "Terreiro do Paço," it is in downtown Lisbon and is a historic symbol of the city, much visited by tourists. What was once the site of the kings' palace is now a place divided between cultural activities, government departments, hotels, cafes, and restaurants.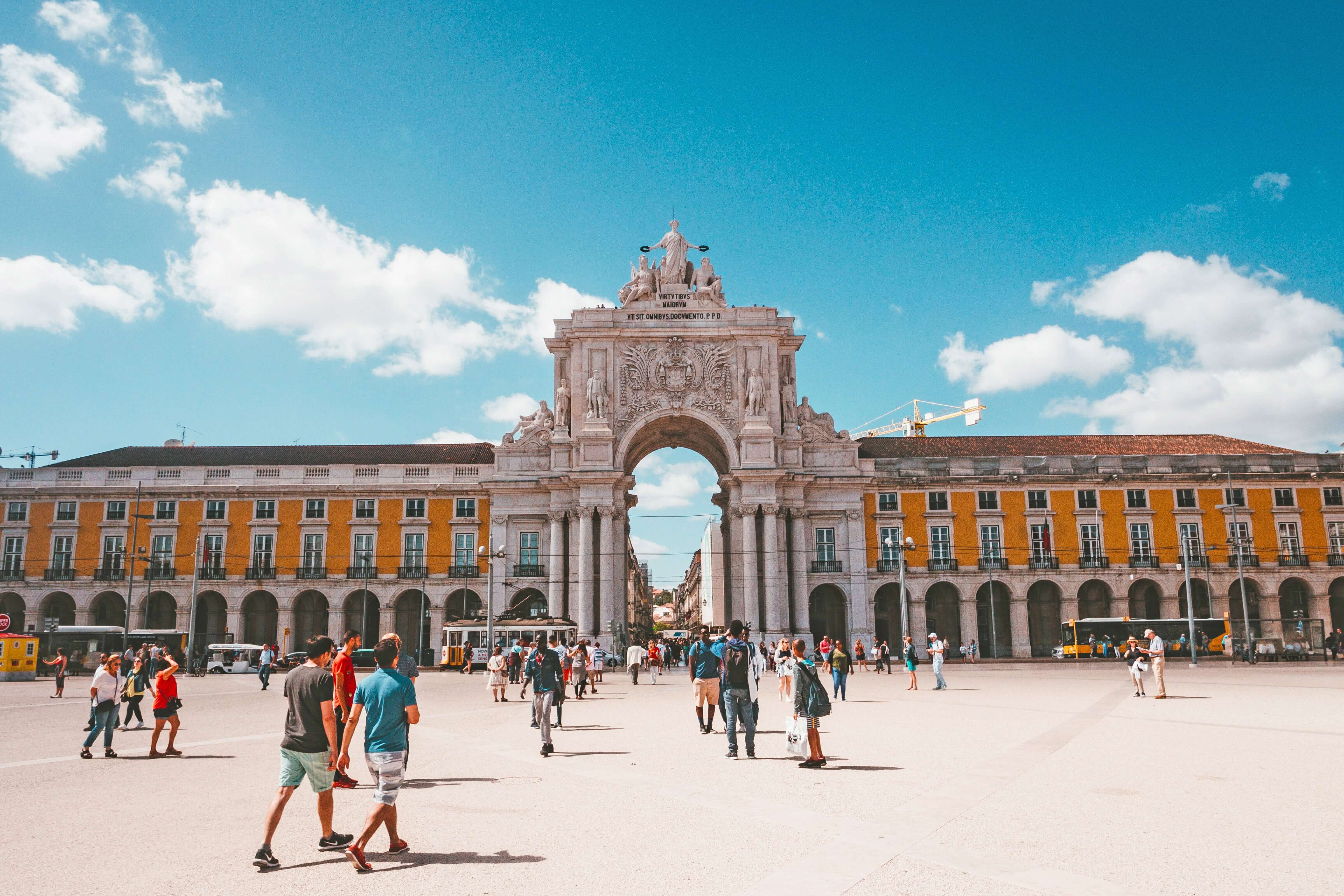 Photo by Claudio Schwarz on Unsplash
12. Ascensor da Bica
Famous funicular located at Rua da Bica de Duarte Belo, one of the city's steepest streets, covering about 280m, it is one of the most famous and popular tourist attractions. You can purchase the ticket for the lift ride on board.
13. Chiado
Known by the immense artists who lived there, this Lisbon neighborhood is one of the best areas for shops, bookstores, bars, and restaurants. Visit Chiado and be dazzled by the capital's charm.
14. Time to eat
Restaurants and delicious food are not lacking in Lisbon. We give you three suggestions: a place for meat, one for fish and one for dessert to finish your wonderful meal.
Cervejaria Portugália – whoever stops here must try the famous steak with sauce accompanied by a beer.
A Casa do Bacalhau – mandatory stop to taste one of the most Portuguese products, "Bacalhau," this restaurant has more than 25 dishes with this wonderful Portuguese delicacy.
Pastéis de Belém - the sweets that everyone loves! A real "must try" for the sweet tooth.
15. Time to drink
Are you a fan of drinks and terraces to enjoy the sunset? If you are, we have three places for you to visit.
Madame Pestica – with stunning views of the river.
Noobai - located in the Miradouro de Santa Catarina, the space is prepared for both summer and winter.
Quiosque das Portas do Sol - this terrace is in the Castelo de São Jorge and it is a great place for sunset lovers.
LUGGit
And who never wanted to make the last breakfast of the trip, the last walk, or buy the last souvenirs but was loaded with luggage? With LUGGit, this problem is over. Enjoy it until the last minute of your trip without worrying about it. And for even better, use the promotional code: LISBON to get a 3 € discount.